Lambe-Lambe was a profession, a process, a camera and a portable darkroom, all at once. Today it is a memory that some passionate researchers try to keep alive. For those who din't have the opportunity to be portrayed by, and avail himself of lambe-lambe by its primary end, it is yet interesting to learn about it as it can make us think about how we deal today with our own memories and experiences.
As a side program from the exhibition Retrato Popular, do vernáculo ao espetáculo, (Popular portrait, from vernacular to spectacle), on show at SESC Belenzinho, there is an activity entitled Retrato Lambe-lambe na Praça (Lambe-Lambe Portrait in the Park), carried out by photographers and researchers Marcos Zaniboni, Cássia Xavier, Gustavo Flaqueiro and Élcio Mello. They are taking turns and every weekend set-up the scene and reenact the ancestral act of Lambe-Lambe photography. Images in this post were made on the 2nd of July, 2016, when Marcos Zaniboni, who works in  Oficina do Olhar (facebook page in portuguese), photo studio, in Pirassununga SP. He was there with his camera explaining and performing the process.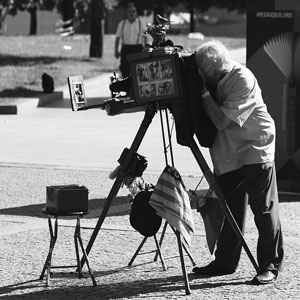 A few words about Lambe-Lambe photography. The literal translation would be lick-lick, and there are many different explanations of its origins to trust anyone of them in particular. The photographer had its trade in public places like parks and other venues of great affluence of people. The picture on the left, comes from Wikipedia (in Portuguese, author is José Moutinho – Portugual). It is a recent picture, from 2010, that gives a good idea about what it was. In this case the Lambe-Lambe photographer, or Minuteiro (from minute, related to the "express" character of the whole thing) is preparing a reproduction. The objective was, in a time when film and paper were the standard image making process, to be able to click and deliver a print, with a reduced size, performing it all in just one and open place. The typical clients were people walking around, enjoying themselves, and the pictures were kept as souvenirs.
We can consider that it was a kind of purchasing by impulse, as there were studios that offered pictures more or less to the same end of memories of family, grooms, birthdays, and the like, with more resources and better results. Lambe-Lambe was at the same time more spontaneous and less ambitious. As a consequence, based on what we know about qualities and demands of silver paper and film, the longevity  of photos so quickly fixed and washed, with so little and still water, couldn't be really long and that is probably the reason why it is so difficult to find authentic Lambe-Lambe photos nowadays. Ironically, what was other people's memories, became recently coveted by collectors and contemporary artists who have no clue about who the portrayed persons were. But let us go for the process.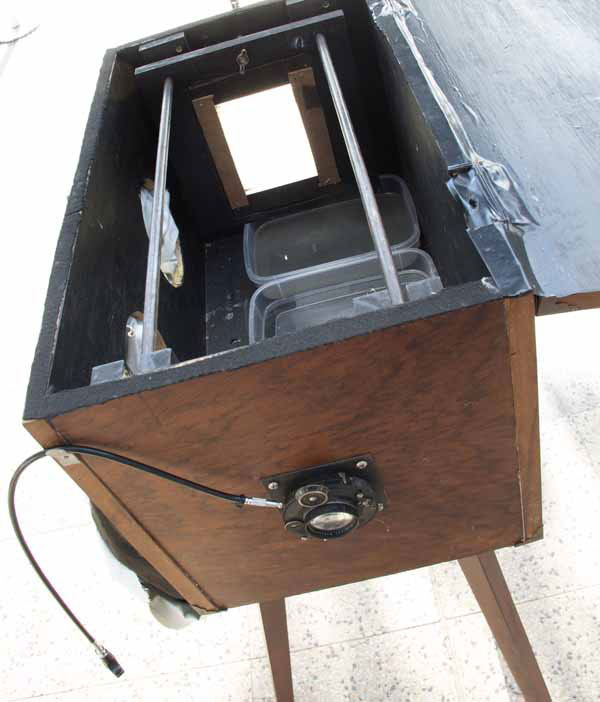 Camera is a box and, as every camera, has a lens and a place for light sensitive material. The rails we see on the top are key as they hold in a first step the ground glass that will be used for framing and focus. By sliding the frame hanged in those rails, getting closer and farther from lens, the photographer will find the point of focus. To accomplish that, with the box closed he opens the lens and observes the ground glass from a small window at the back.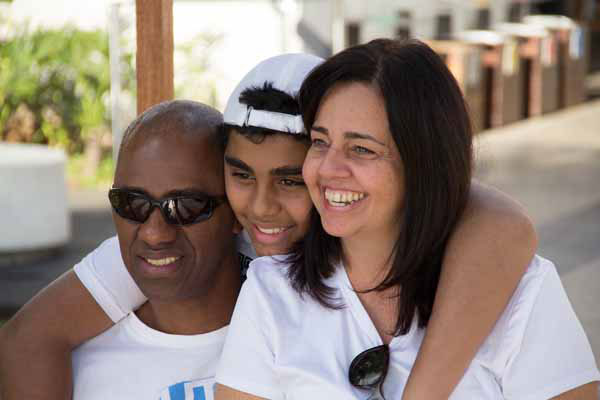 The picture I followed was a happy family enchanted with the technology.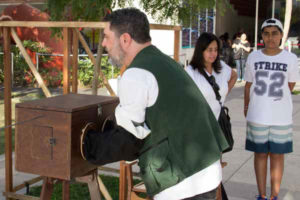 Before starting, the camera must have already some paper or film ready to be set in place. There is a small box inside for that buffer and in order to stock it there, in the absence of light, there are light proof sleeves to grant access to the camera interior. Normally it should be black and white film to produce a matrix to be printed. But as the purpose in this demonstration was more about explaining the process, it was used paper. The difficulty with film is that it would produce a negative to be washed, dried and contact printed on paper in order to get a real positive picture. Unfortunately that was not the case.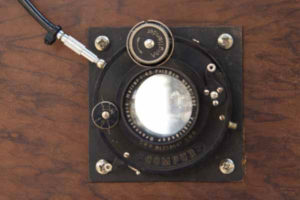 Lens was a Heliar from Voigtlander 13.5 cm f4.5, probably a cannibalisation from a Bergueil 9 x 12 cm from the 1930's. Marcos told me that this specific Lambe-Lambe was built following a project from an Afghan camera. That is a characteristic of Lambe-Lambe photography, that means, the equipment was, and today they absolutely are, home made by photographers, adapting and improvising. In the heydays of park photography there was a sizeable market and producers of branded equipment designed some for that purpose. But, again, the harshness of a business run by otherwise poor people, the wetness, the chemicals and so on, destroyed most of what was actually professionally used.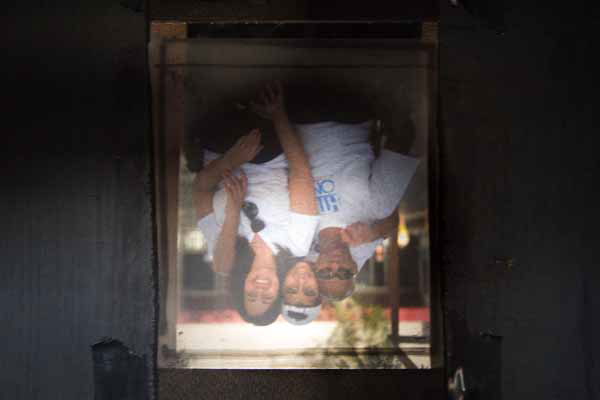 This is the view we had on the ground glass.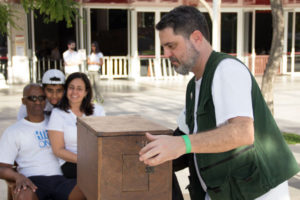 Next step, once subject framed and focus marked, was to close the lens, load the paper in place where the image plane was. Family was requested to not move and obeyed patiently. The access is again by the side and the bar that Marcos pulls with his left hand is the one that makes the film holder in the reach of his right hand and ready to be loaded. After that, it must be returned in position for exposure.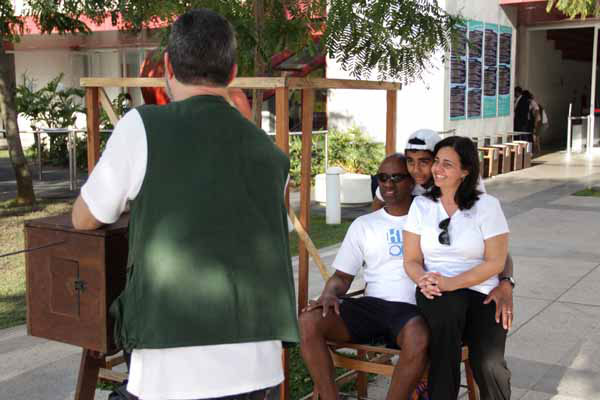 All set, here comes the smile and click.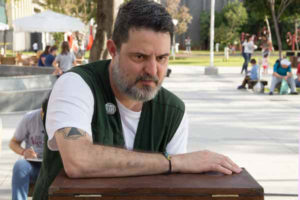 Development is also made using the side access. It consists in removing paper from film holder and passing it by developer and fixer trays. In order to make it simple, the stop bath was skipped. That brings no other consequence than exhausting the fixer more quickly. When picture is already in this second bath, it can be seen in the light. That is time to wash it in a larger tray outside the camera.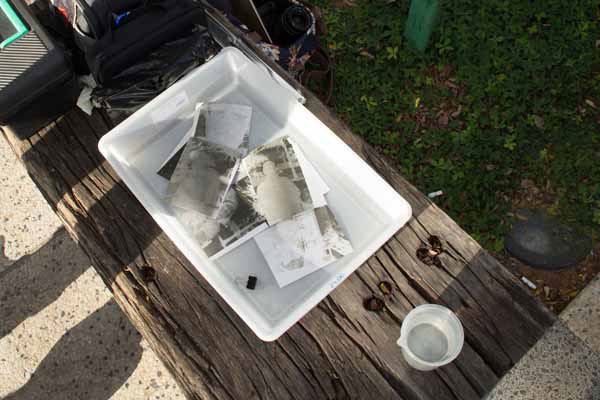 In the tray above we can see the general aspect of negative papers. To remedy this presentation that does not match reality, a new picture of this negative was made using the client's mobile phone and by inverting image with an app, voilá , we had a now digital positive image, dry and portable, sharable and so on.
These demos of Lambe-Lambe photography will run untill the 31/July/2016, they are, as stated above, a side program to the exhibition Retrato Popular, do vernáculo ao espetáculo, (Popular portrait, from vernacular to spectacle), curated by  Valéria Laena, Titus Riedl e Roseli Nakagawa. For more information use the link: SESC. For those in São Paulo and willing to check it out, it is very easy to get there going to Metro station Belenzinho, line 3 red. From there, it is a 10 minutes walk. Don't forget to check before the agenda for Lambe-Lambe demos.