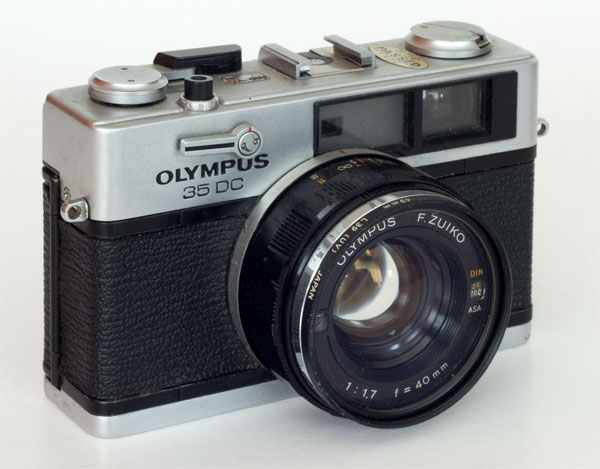 – Olympus 35DC – Olympus – c.1970 –
Very special camera from Olympus. It only works in automatic exposure with camera selected combinations of speed and aperture! There is a gauge, visible in the viewfinder, and it goes from 1/15 at f1.7 (lowest light condition) to 1/500 at f16 (highest light condition). It locks on underexposure. You can lock the exposure of part of your scene with a half way pressure on the shutter release and then frame and shoot. Yes, it is a point and shoot with quite reasonable sophistication. But you will never get 1/500 at f1.7 for instance.
For focusing it has a very bright telemeter coupled with viewfinder. With a 6 elements Zuiko f 1.7 lens, the image quality is just excelent. Why such a nice lens in a camera with no manual or flexible automatic exposure ? Relax, take pictures with it and you will like them. Below, how the pairs aperture/speed are seen in the viewfinder.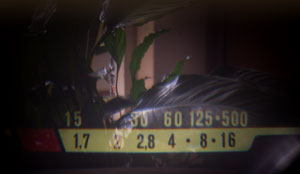 The hot shoe alows the usage of flash in a particular way also: you tell the camera what is the guide nunber of your flash unit and, as you focus your subject, the aperture is set according to the distance. Below, we see the GN (guide number) setting on top of camera body.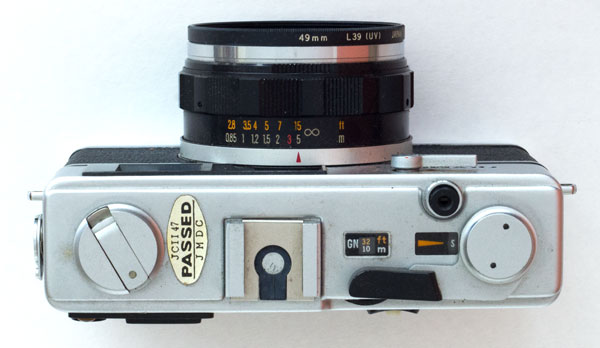 The only negative point is that it uses the old mercury batteries 625 1.35 V, but there are substitutions at 1.4V already in the market.
For those who absolutely want to be in control and adjust everything before shooting, this is/was still a great option as a second câmera for those moments in which all that is needed is lightness and quality for a few snapshots.
Some pictures taken with it.