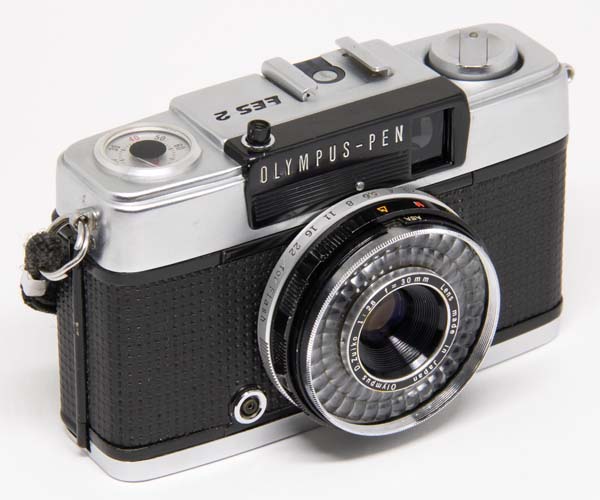 – Olympus Pen EES2 – Olympus – 1968 to 1971 –
This is my first camera. I acquired it, brand new, in 1979, when I was 20 years old. In total Pen Series history, 17 millions of cameras were sold. Launch was in 1959 and the Pen EES was launched in 1962  . There were 19 different models produced from 1959 onwards for more than 20 years. Olympus was a daring and innovative company in many aspects and their products always reliable and delivering good quality. Design is elegant and functional. Finish is above any expectation for a popular camera. It makes half frames with 35 mm that is just OK for 9×12 or 10×15 enlargements, the two standard sizes for amateur color photography at that time. I always used it in automatic, making exposure compensations tricking her with the ASA number. Very effective control. Speeds go from 1/30 to 1/250 and focus in 3 zones: portrait, group and landscape in a f2.8 lens. This specific model EES2 was produced between 1968 and 1971. Automatic exposure, meter around the lens (good if you want to use a filter), no batteries: perfect.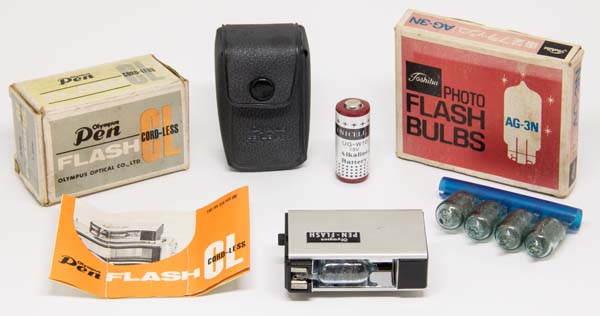 The Olympus Pen Flash CL is an accessory that completes the 60's look & feel of this camera. It uses a battery that is no longer in regular retail stores but if you search for UG-W10 Alkaline Battery, you will surely find some online seller offering it. The bulbs are of type AG. There are variations of power AG-1, AG-3 and there are also versions for B & W and others for color film with a bluish color. They are no longer manufactured but there are remaining stocks offered at online stores.
There is a very interesting site with Olympus cameras history and also transcribed lectures from Yoshihisa Maitani (1933-2006), the legendary camera designer, resposible for Pen, OM and XA. The link to Pen page is: Olympus Pen History. Among many accomplishments of his design, the Olympus Pen was able to bring the number of women purchasing cameras from 2 to 33% as a share of camera buyers. It was formerly seen as a men'ss stuff, a machine, as Mr. Maitani point in his lecture, but the elegancy of design, the easiness of use and affordable price made the camera a success for both genders.
Some pictures from the 80's made with my dear Olympus Pen EES2