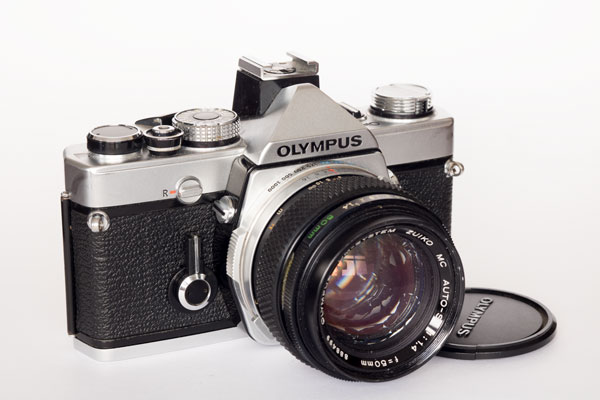 This was my second camera. The first was the Olympus Pen EES2 and this one I bought as soon as my first child was born. I don't even know how many film I made with it, but they were many. At the time, in 1982, OMs were an option for those who couldn't afford a Nikon, as this was the most famous and desired brand among the 35mm SLRs. I think they lost in preference also for Canon or Pentax. Probably on account of Pen and Trip that gave the brand an image more linked to the amateur photographer. It has a more fragile appearance because it is very compact. But these years have all proven to be a camera that is very well designed and built to last. Even today, in the used market, they show that they have survived and are generally in good working order.
The shutter release button is so soft that it helps a lot to prevent blurry photos. It is very easy to get to the limit point before firing and from there to shutter release it seems that you do not even move your finger, it seems that just mind the shot and it happens.
Body size is sufficient to make it disappear in our hands. After many years I bought a Leica IIIf and found that the body itself in height, width and depth is the same. The OMs just don't have that perfect semi-circle curve but they seem to have purposely followed the ergonomics of the famous rangefinders. The OMs were released as compact SLRs and were announced as the smallest and lightest in the category.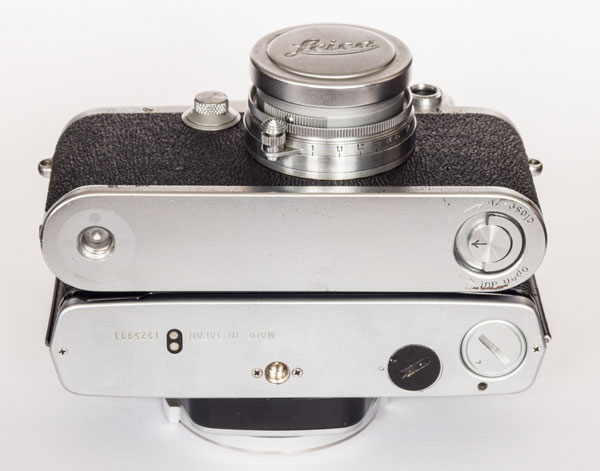 The body is really very light and with these small dimensions it is very nice to use. Compared with a Nikon F2, for example, which is an excellent camera of the same time, a few millimeters and a few grams more, already make it an instrument that you carry, Olympus OM gives the impression that you wear it.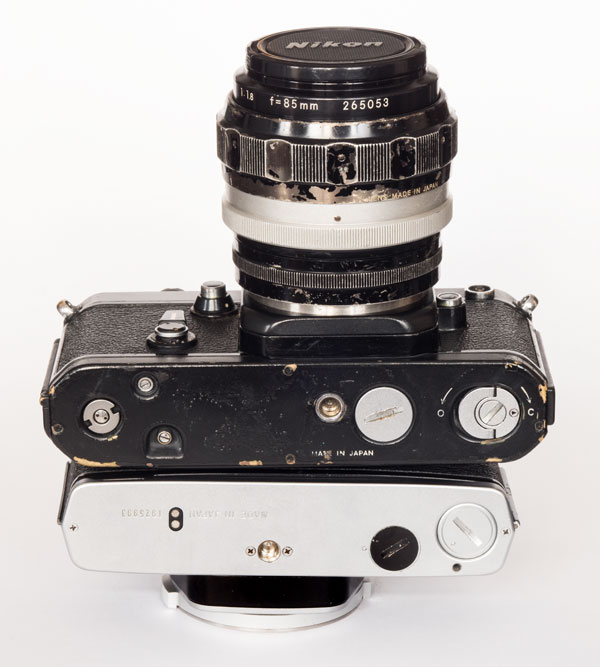 A weak point in the design is the flash shoe that is removable. The problem is that sits over the pentaprism, as one tightens the thread to fix the shoe it is forced to open the flaps and they actually open by cracking shoe's plastic body. I have two and both are cracked, I can use them, but it gives a little insecurity that any time it will fall apart.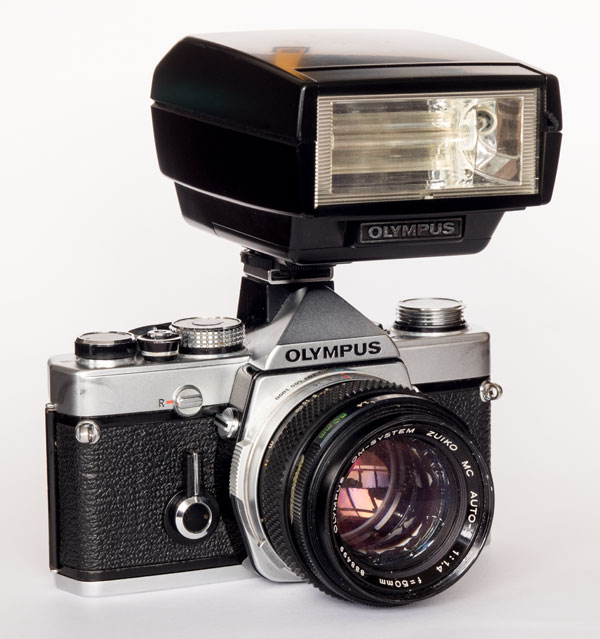 To complicate matters further, the OM system flash is somewhat heavy when charged with its 4 AA batteries. The model above is the T32 and has precisely guide number 32 which gives a good power that can be used at half load with guide number 16 or automatic.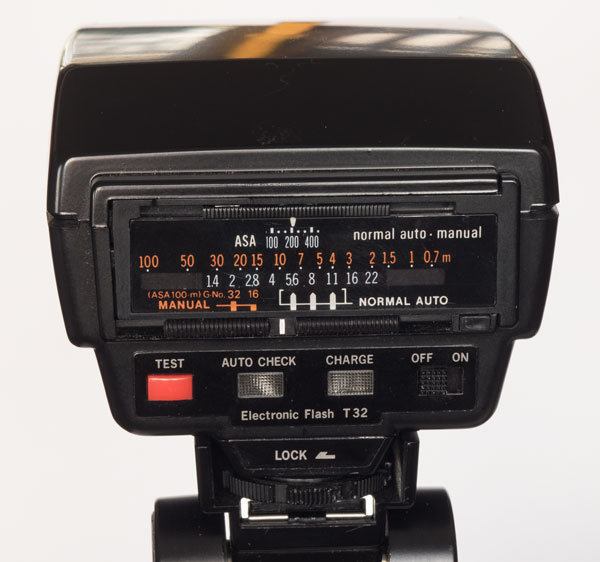 It's a great flash with reflector that can be rotated to bounce off the ceiling. I still use it today, especially when I take photos with a digital camera. But the ideal arrangement is when using the grip, pictured below, which in addition to better support the flash, giving more security in sudden movements, has two extra medium batteries and can also be used remotely with special cables.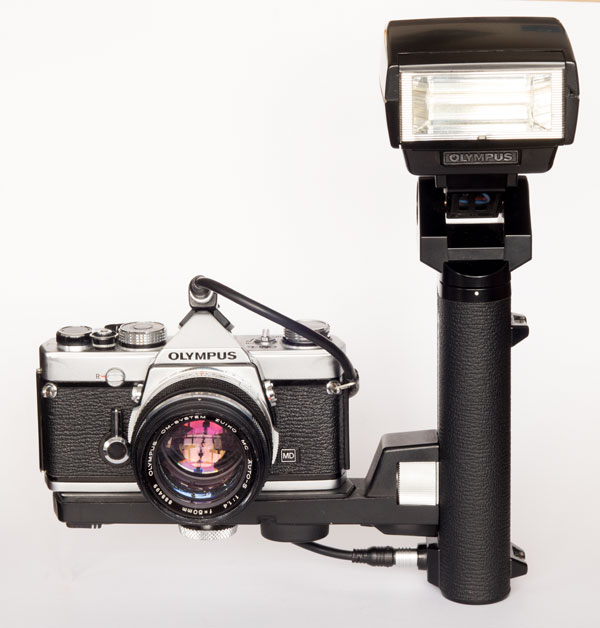 Olympus optics are Zuiko branded, and are excellent. I have some and my favorite is 135 f / 2.8.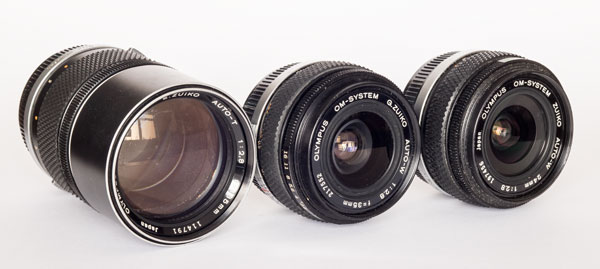 One that I rarely use, but from which I have some good pictures, is the 300mm f / 4.5. I can't imagine many other situations than wild life pictures to use this lens. As I rarely look for this kind of subject this is a lens that I used little.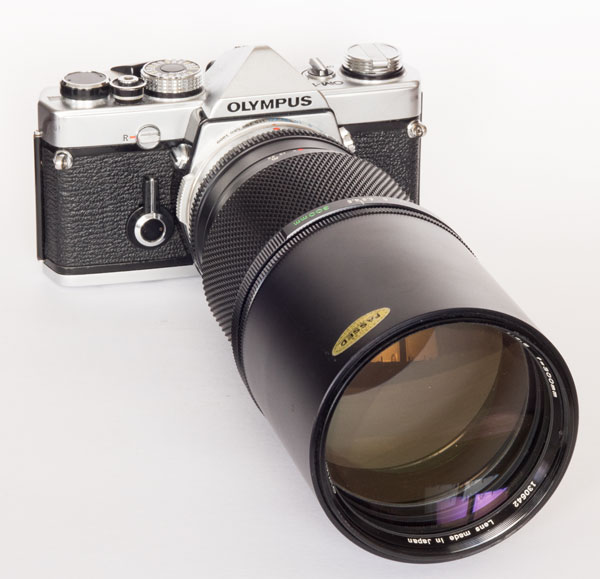 The same is true with macro photography, I do very little. The OM system offers an 80mm f / 4 macro and it makes possible 1: 1 reproduction. I've seen many bellows for this purpose but never one as robust and well finished as this one from Olympus.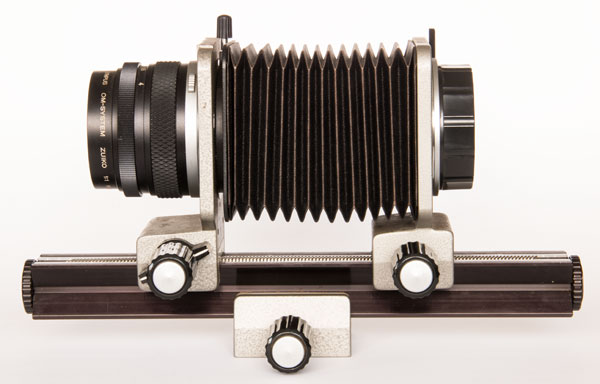 The big advantage I see today is the use of the bellows with the slide copier, also from Olympus, for digitizing 35mm films.
The picture above features a complete setup with a mirrorless Sony. In this exact position, a negative 24 x 36 mm can be scanned as 4000 x 6000 px in a fraction of seconds. This is equivalent to approximately 4000 dpi. I don't know of any home/office scanner that can do that so easily. The quality leaves nothing to be desired. I do it at f / 11 and I have perfect focus all over the field.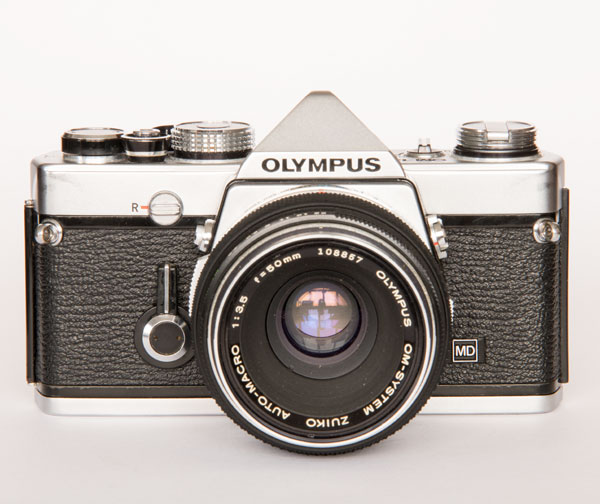 In this case, I have used this lens on a Canon digital with an adapter ring. All OM optics fit Canon with a simple adapter. No need for extra lenses. Except for the above and next photos, for obvious reasons, all the others in this article were made with it.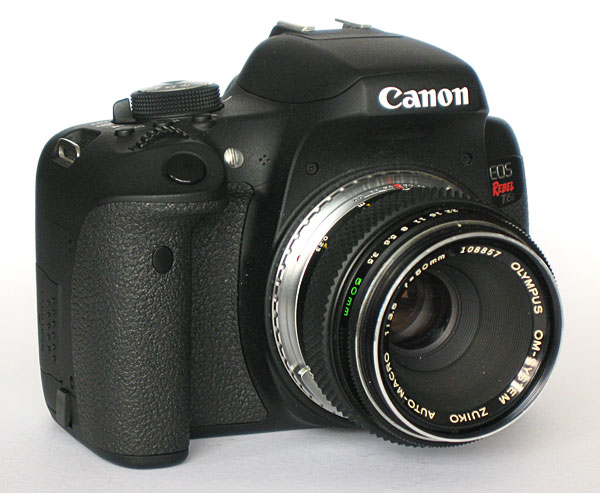 The OM line has evolved with several other more sophisticated versions. The advantage of the OM1n is that being fully mechanical it can theoretically last much longer than other cameras that use electronics to control exposure and other functions. The photometer is the most delicate part. But this one of mine, for example, still works and I use a battery adapter, MR9, which simulates old 1.35V mercury batteries from 1.55V alkaline.
I recently purchased an OM2, which has an automatic speed function. But it is a little distressing not to hear the noise of the second curtain delay mechanism when exposed in 1/2 or 1 second. For now it works, but I think that sooner or later it will stop while OM1n will move on.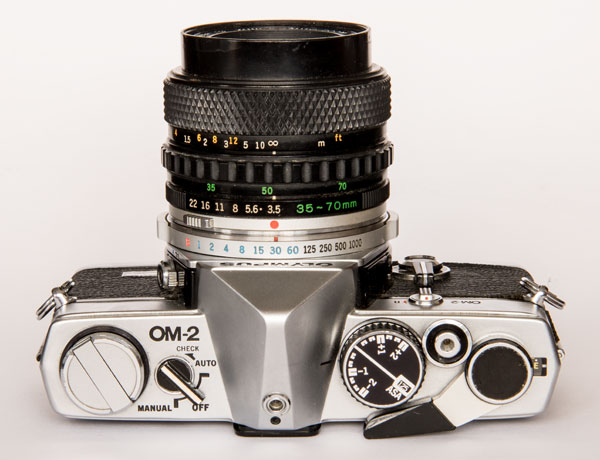 In the picture above the OM2 is with a zoom lens, which I usually don't like, but I traveled with it once and ended up finding it quite practical. At 35mm focal length photos it gives some distortion by curving straight lines around the edges of the image. This does not happen even with the fixed 24mm.
OMs have a community of enthusiasts and Olympus has really developed a very extensive line of lenses and accessories. It is admirable the effort and technology developed by a company that could perhaps even increase its profits, had only stayed in the point & shoot market where it has always been one of the boldest players with Pen, Trip, Xa and others.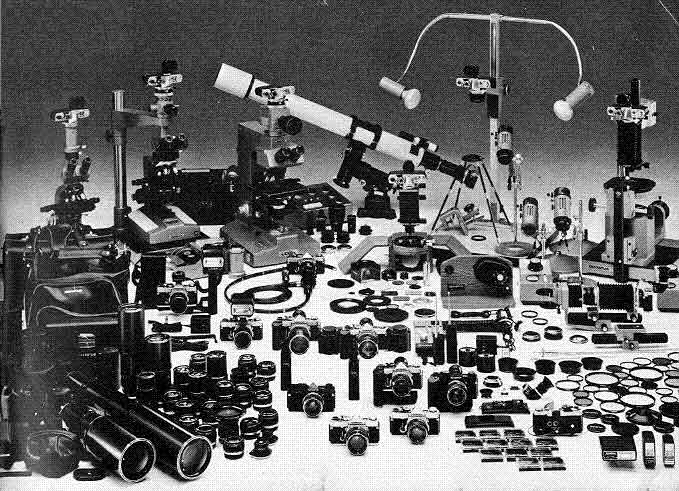 I ended up doing an article more focused on  my personal experience with the Olympus OM1n and in fact this is a camera with which I have a very strong and old affective bond. It was the one that accompanied me all these years and the one that recorded my family's daily life. Here follows a link to a site that goes deep into the technical and innovative aspects of the OM line.. Modern Classic SLRs Series Olympus OM . It is an old site and looks like it has not been updated. But the content is very interesting, I hope it doesn't go down.
Finally, a long gallery, but it is nevertheless a small sample of the photos I made with the Olympus OM1n over the years.
Comment with one click:
Was this article useful for you? [ratings]