It allows plenty of good insights the exhibition, Retrato Popular, do vernáculo ao espetáculo, (Popular Portrait, from vernacular to spectacle) on show at SESC Belenzinho – São Paulo, since May 6 and ending July 31, 2016. First by providing an encounter of popular art, that is made for straight consumption as it is, just as a symbolic system, and another one that is considered more informed and attempts to position itself somewhere beyond what it symbolizes. An art that is somehow auto-referent. At this meeting, it is possible to see popular artists trying out the mannerisms of artists who call themselves contemporaries, those who consider themselves detached from local traditions, more as part of a universal art history, but we can also see the latter appropriating production and themes of the first ones and presenting them with new readings, triggered by curatorial rearrangements that its very creators would not suspect. Only this is already curious and worth the visit. But let us go to another aspect, more interesting, which makes this exhibition as a starting point for a reflection on our relationship with idealisation and reality.
Today there is much talk of "real beauty", it is like a movement that aims to alert us to the tyranny of beauty ideals propagated by advertising images. Those that wickedly make people feel ugly and urges them to consume more, trying to match an impossible ideal. By this line of reasoning, a woman picture ostensibly placed on a magazine cover, over digitally retouched and looking like a doll, becomes a public offense. Meanwhile, in the popular portrait, specifically the fotopintura, (photopainting), the client asks the photographer, usually through a salesperson, for a complete remake, perhaps with blue eyes, without blemishes, wrinkles or spots on the skin, with clothes that he never had, in luxurious homes where he never lived, or as a character in a story in which he never was. When he receives the photograph, he does not feel humiliated, diminished or offended by realising the huge gap between image and reality. He is instead proud of it and fully recognises, himself or a beloved one, in that image.
In an interview conducted by SESC (in Portugues, maybe worth to see the studio at 16:40), Julio Santos, master in photopainting, who lives and works in Fortaleza – Ceará, uses repeatedly the term dignity. He says that people go for him in search of a dignity that only materializes when he uses his ability to represent them in photopainting. The ways in which this dignity is expressed reflect the conventions of our time. Those are the props and apparel that make the sitter a decent person. Representative of that are the suit and tie, necklaces and crucifixes of gold, all luxury symbols and also the occasional elimination of marks of early ageing, suffering and hardships of those who have always lived under the most adverse conditions. What a simple picture would show, is not more than an image distorted by contingencies of life. The photopainting is a picture about how that person really is, or how he would be, if only his internal, moral and spiritual dispositions could be captured by a lens, or if life had been more gentle and just with him. It is a realistic picture of portrayed's inner nature.
Commercial exploitation of the ideals of beauty and dignity, the beautiful and the good, which always go together in any society, is certainly something reprehensible. Its moral failure is that is oriented to prevent identification with such ideals by not allowing ordinary people to be seen in the media carrying its symbols. The target cannot approach those standards in anyways but consuming, using the same brands, but is frustrated by still not recognising himself in that, by not belonging to the world that advertising promises. At the same time and ironically, understanding the leads, elements and conventions that symbolize what is good and beautiful, the popular portrait seizes up these elements and elaborates on them. The portrayed is represented as he or his family really are in essence, not in appearance, but through appearance. In this way, ideals are not a threat or burden, and they can live in peace with fantasy.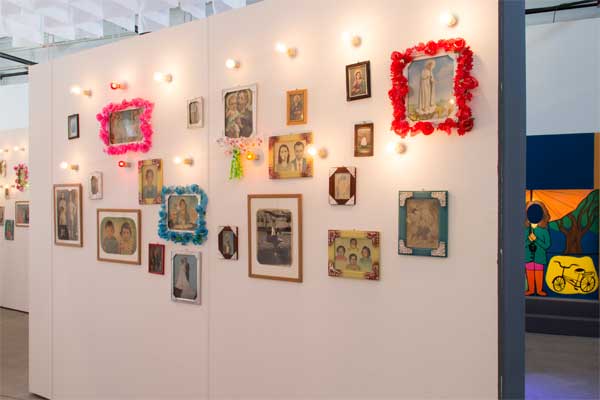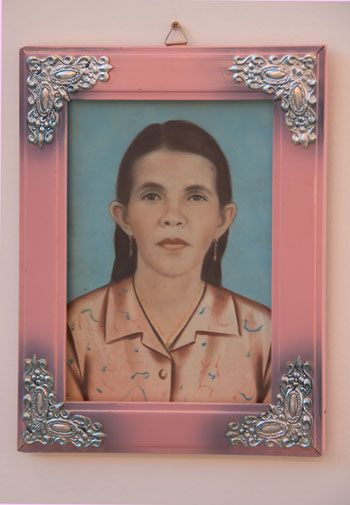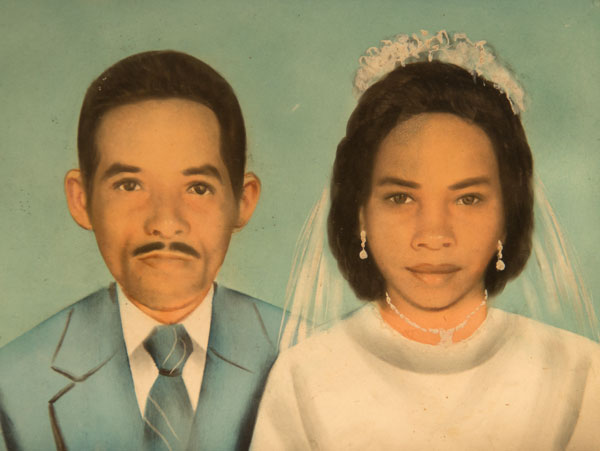 These are the first ones we see entering the exhibition. They are photographs, frames and settings that, considered the impositions and style of contemporary art exhibition spaces, still refer to how those images are presented in the homes of those who use photopainting as such. While it is impossible to know exactly in which, in some pictures it seems very likely that the base photo must have been a picture used in documents. This shows a very sporadic relationship with the camera. From that starting point, very down to earth, once guaranteed the verisimilitude with the portrayed, all departures from reality are allowed.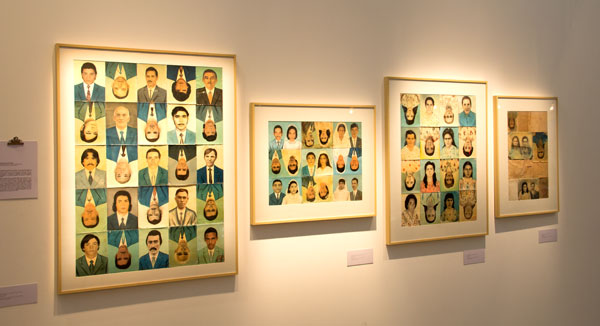 Here is an unorthodox display, in relation to the original photopainting use. The curator, researcher and collector Titus Riedl gathered several original fotopinturas in a mosaic in which, to escape the banal juxtaposition, he put some of them upside down.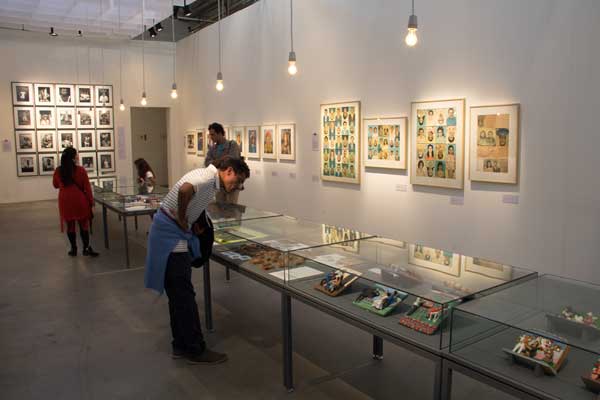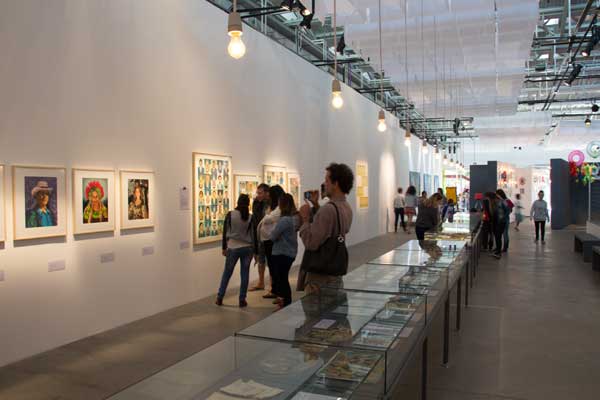 The following pictures show some works from master Julio Santos. His studio recently entered into digital imaging and that introduced a new rendering that causes a certain strangeness to those accustomed to the traditional painting. However, the ability to quickly place the sitters in interiors shown in architecture magazines, or other more unusual scenarios, seems to be worth the effort of a visual adaptation to this new type of finish. Meanwhile, the original photopainting gets its dying art certificate and goes making his way into museums and collections.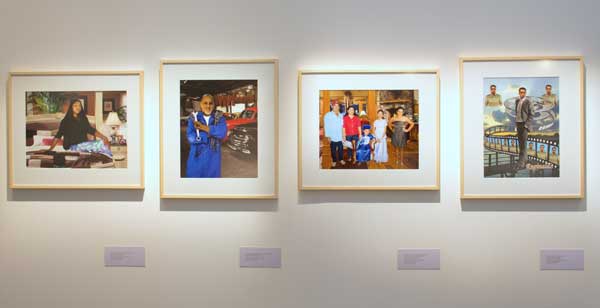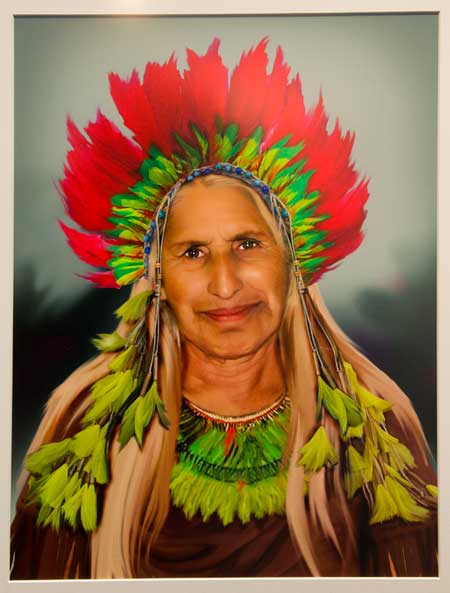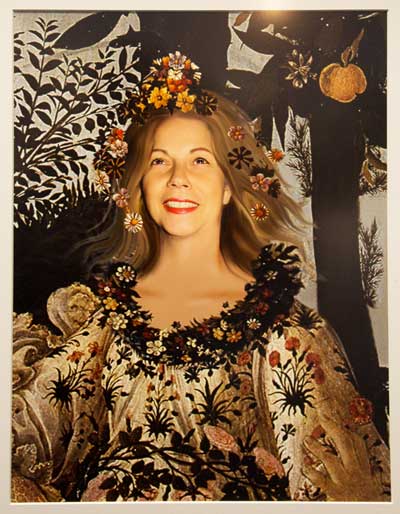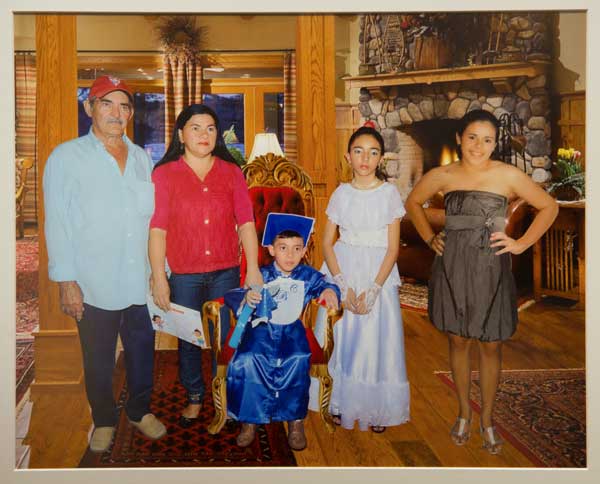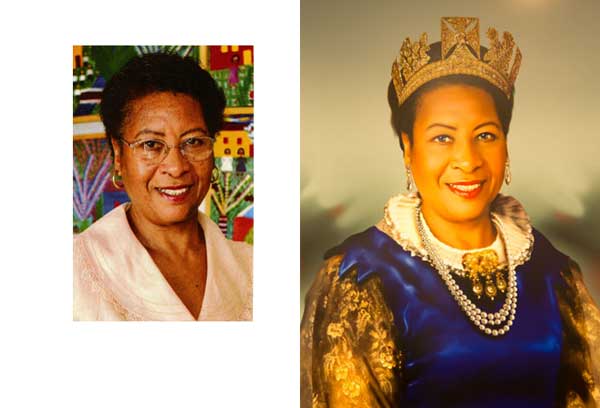 Not being part of the exhibition, the photo on the left was the basis for the queen on the right. It was published in Fotografe Magazine, June / 2016, about the exhibition it is credited to the Julio Santos himself.
Below, a series of photos from Tiago Santana, Crato – Ceará. Depicts the mystical environment of Juazeiro, a top pilgrimages destination in Northeast Brazil. Those are photographs of a refined look that values the use of visual metonymy, looking for details that reveal the whole, shadows that reveal the bodies, and displays the photos as objects, unframed and like floating on the wall.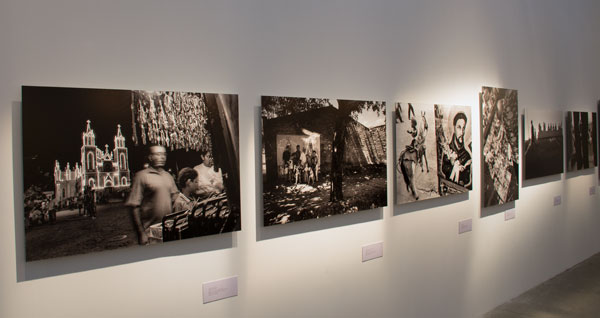 The following photos are from Luiz Santos and Tonho Ceará , who traveled through many cities in Northeast Brazil, between 2006 and 2008, with a lambe-lambe camera, portraying the people they encountered. They registered indians, gypsies, circus people, landless and pilgrims. Here, the portrayed is no longer the customer ordering the photos, and photographer seems to be more concerned with a cultivated audience able to value the fine art prints and frames that can be seen in the exhibition.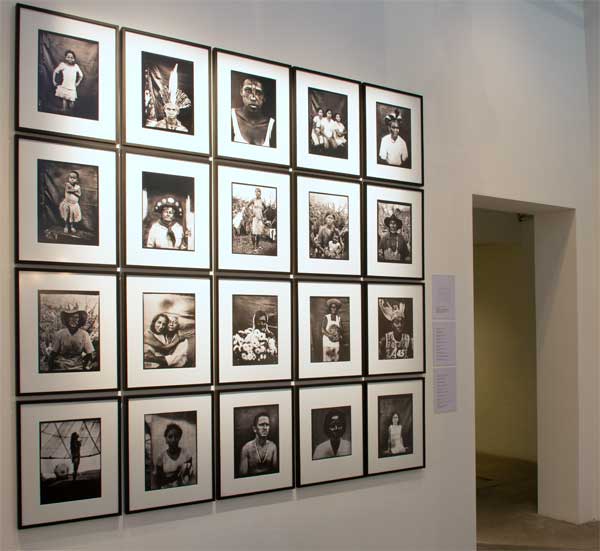 The exhibition runs until 31 / July, it is very easy to get at SESC Belenzinho by metro: Belenzinho station and walk 10 minutes. The curators are Valeria Laena, Titus Riedl Rosely Nakagawa.
one click comment:
was this article useful for you? [ratings]