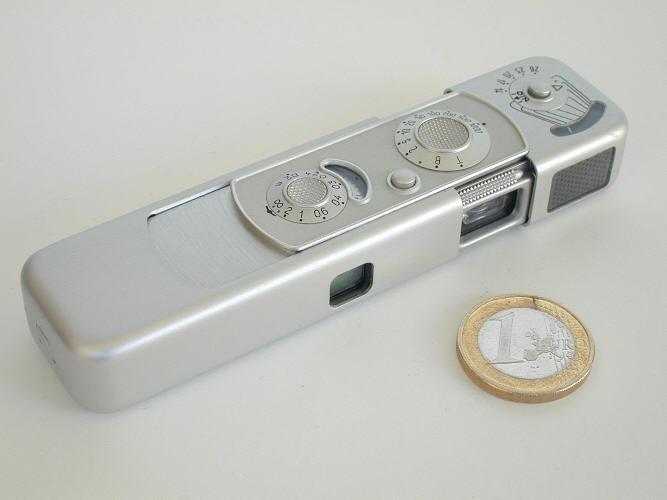 – Minox B – Minox – 1970/1972 –
This is a wonderful piece of engineering. It belongs to the "sub-miniature" category in terms of format. It uses special cartridges and makes negatives 8 x 11 mm with a fixed aperture of f 3.5 in a 12 mm lens (there is a depth of field chart at the end of this post). Speeds can be set from T, B, 1 to 1/1000 s. Focus is adjusted by guessing the distance. It has paralax automatic correction on viewfinder and built in filters, light green and gray – having f3.5 fixed, sometimes even 1/1000 may lead to over-exposure or, you may want a lower speed for whatever reason, for that, there is a gray filter. What is amazing about this camera is the overall image quality and sharpness is limited only by film grain, so I try to use it in situations where the grain is not a problem technically or aesthetically speaking. This one, model B, has a light meter that was an innovation to its predecessor A. It was produced from 1958 to 1972 and it was more like a luxury item . According to the serial number this one was produced in the last two year 70/72. The original project dates back to 1922. It was conceived and designed by the German-Latvian, Walter Zapp, and production started only in 1936. Minox is still active and has successfully added sport optics (binoculars) to its line-up. They maintain a very good website with history, models, serial numbers and more information . Click Minox and land directly in the history page.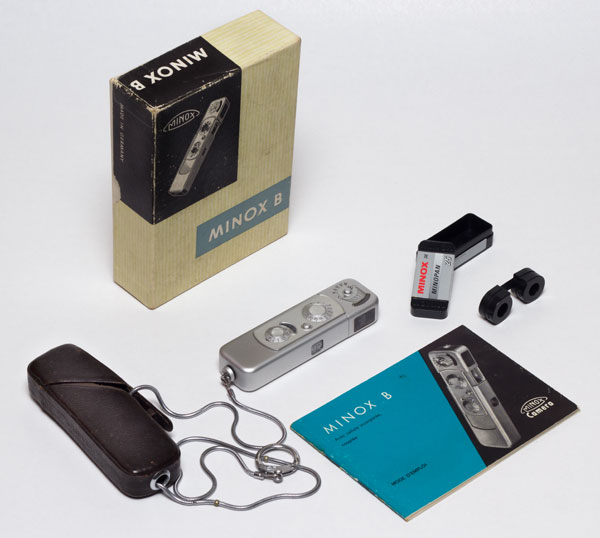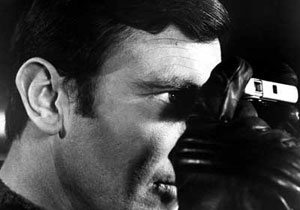 Packaging, leather case, manuals, everything in a solid and sober finish, for a so tiny camera, are part of the sophisticated experience Minox wanted to provide to its users. Having a Minox was a sort of a statement setting one apart from the photographic clutter. Adding up to the legend, Minoxes became the spy camera par excellence. But not any spy, only the elegant ones, like James Bond, would charmingly capture the most revealing snapshots. This is George Lazenby, in the 1969 movie On Her Majesty's Secret Service.
The most difficult part, for me, in using a Minox is avoiding camera shake. It is so small an light that you cannot count with any inertial effect helping to keep it more stable. Mostly, if you are not James Bond, don't try to use it wearing leather gloves and don't turn it upside down to fire it with your thumb. Follow instead the owners manual recommendation as it is displayed on the next pictures.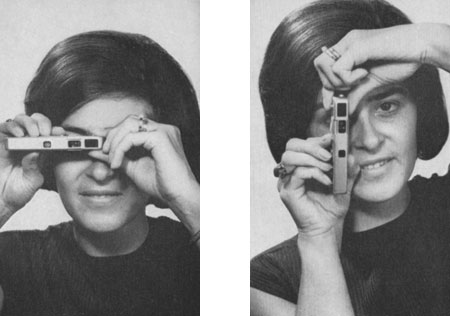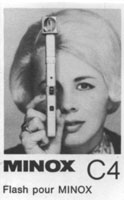 Flash Cubes are part 60's mass culture. About it, Minox surrendered in having an accessory shoe that allowed its users to have something in common with Kodak Instamatic users. As an accessory, there was a flash cube adapter that was like an extension of camera body and should be manually turned in order to set a fresh bulb in position. The only shortcoming of this solution is that if you are shooting landscape you will get a lateral light and that may look odd in certain cases. Larger cameras try to position the flash in a diagonal in relation to lens so you can always have it a bit higher than lens. That is the way shadows fit better in our  imaging standards.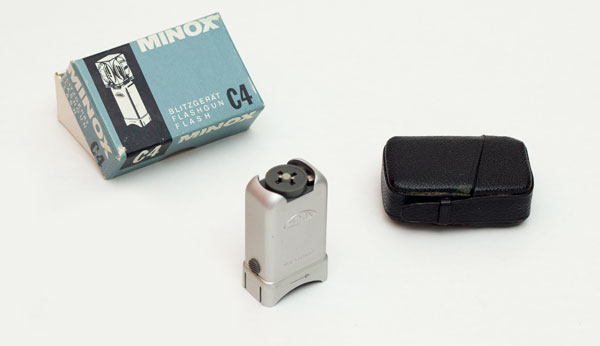 With Minox you don't have, interchangeable lenses. But, maybe a spy suggested a binocular adaptor that would be useful in certain top secret situations.

Developing Minox film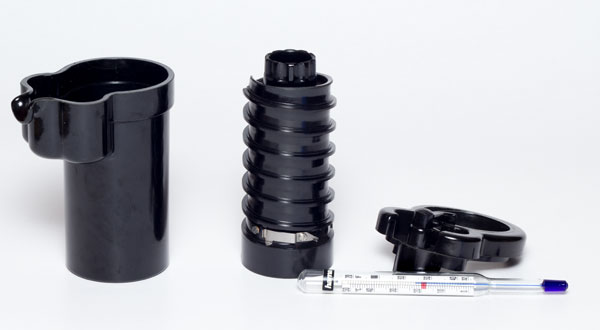 Working with 8 x 11 mm negative has its idiosyncrasies. For development, Minox offered a beautiful tank in bakelite that is another jewel. You place the cartridge below that "balcony" on the edge of the lid (on the right). Engage the tip of the film in the metal part at the bottom of the drum, and after placing both over the container, you "screw" it inside. The operation can be fully accomplished in daylight.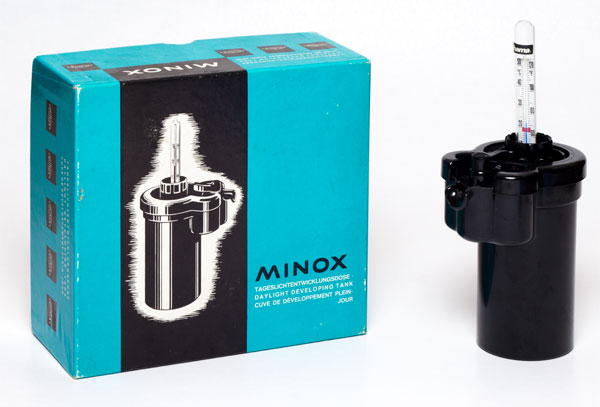 When assembled the tank looks like this. The thermometer besides reading the temperature is also a mean to agitated the developer by pumping it up and down. A 36 frames film is developed with only 53 ml of chemicals. I scanned and added the developing tank manual, with complete instructions, at the end of this post.
Elarging Minox 8 x 11 mm negatives

Once you got your negatives it is time to enlarge them. For that, do not count with you 50 mm lens unless you have an enlarger with a very tall column. With a 50 mm lens, in order to get a 15 x 21 cm print, you need the lens 100 cm from enlarger table. Being only a 8 x 11 mm negative a much shorter lens is highly desirable. For that I am using the camera objective from the Pentax 110 system. It is normal lens there and has 18 mm f2.8. This lens is not that hard to find on auction sites and do not cost that much. An adaptor ring made specifically for that purpose uses the lens filter thread and allows it to go inside the enlarger bellows using its regular lens board  39 mm thread. This is a good solution in two ways, first, you use a standard screw thread to hold the lens instead of the the Pentax bayonet mount, and second, by having the lens inside the enlarger bellows you will be able to get much closer to film as it may be needed with such a short focal lenght.
Spooling Minox film from 35 mm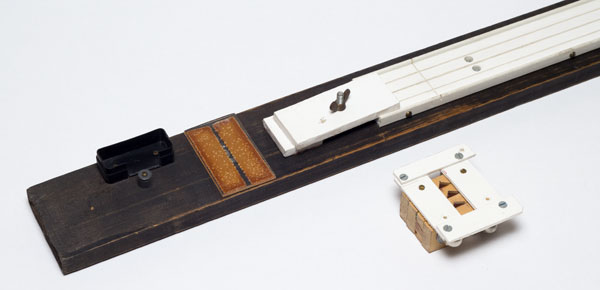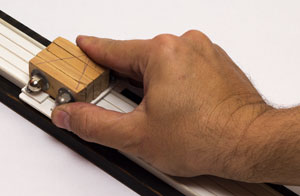 Another topic is about spooling fresh film in old cassetes. I made a flat bed spooler that uses 35 mm film and cuts 2 strips at once. Those strips fit into  Minox cartridges. Basically, you have to lay down the film in complete darkness over that rule, which looks like a rail, and run a cutter over it.
Pictures
Some pictures made with this Minox B and enlarged with the Pentax 110 18 mm.
 Minox Developing tank instructions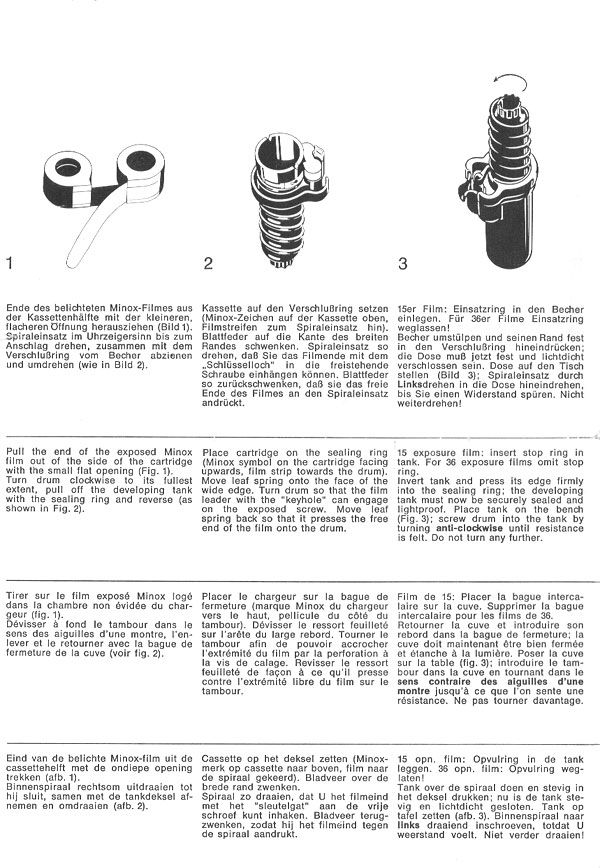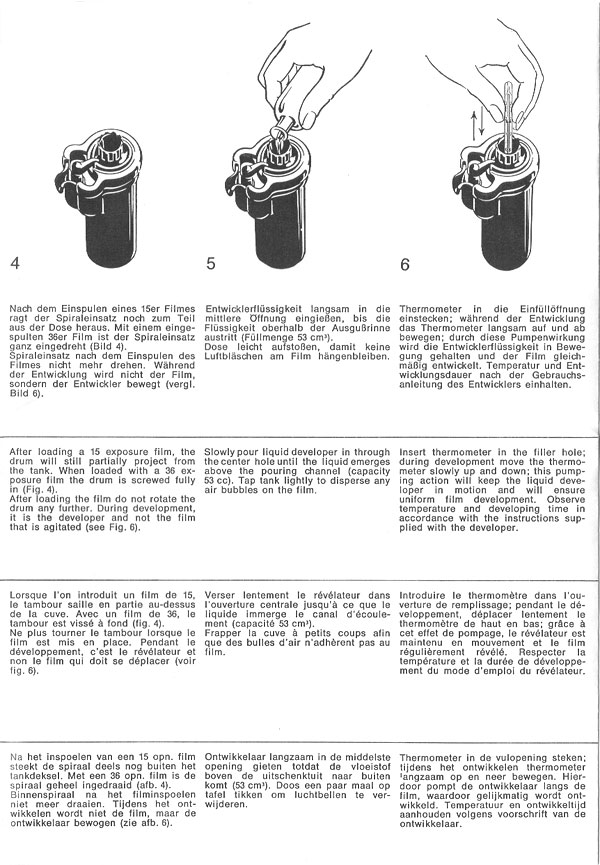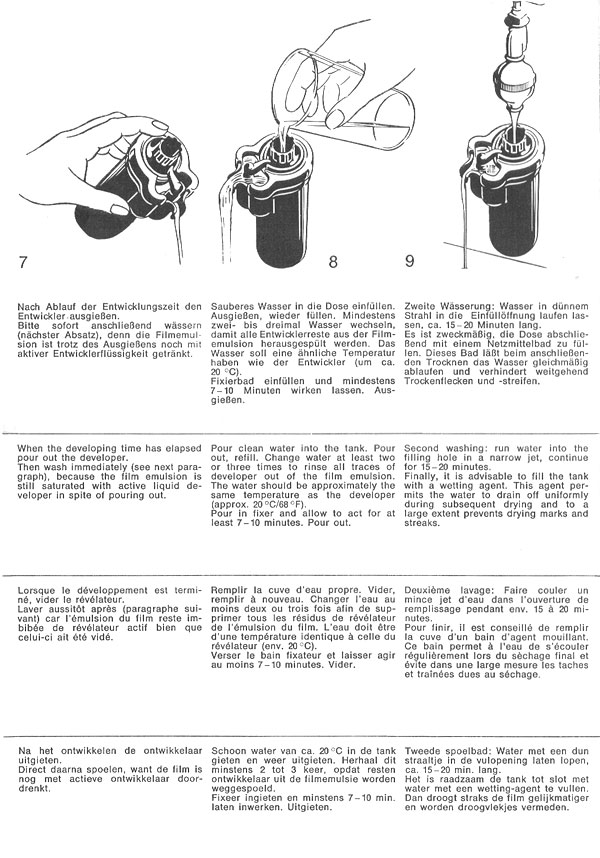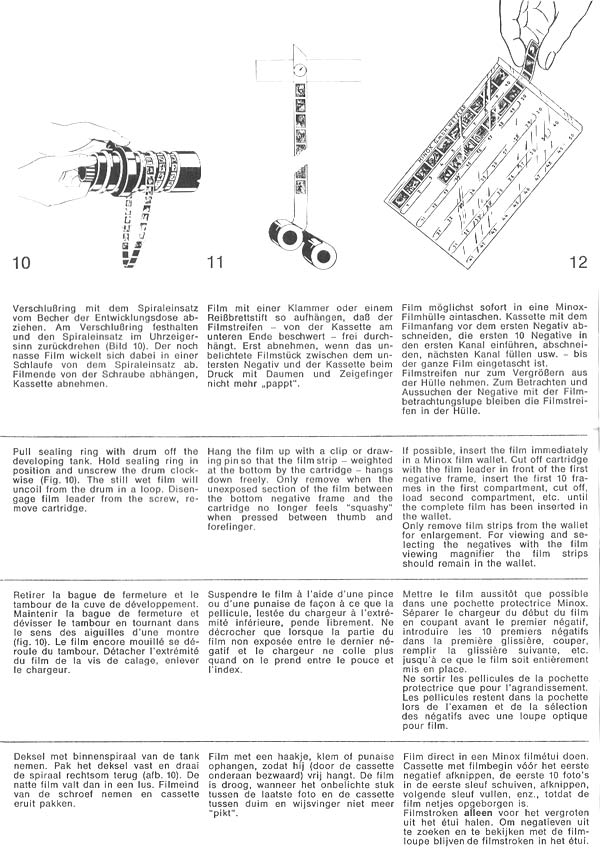 Depth of field chart